.
By Camille Elemia, September 23 2018; Rappler
https://www.rappler.com/newsbreak/in-depth/212609-why-senate-backed-trillanes-not-de-lima-against-duterte-cases
Image Credit to ABS-CBN News
AT A GLANCE
Senator Leila de Lima was imprisoned in February 2017. A little over a year after, opposition Senator Antonio Trillanes IV faces the same threat. But unlike in the case of De Lima, the Senate played a crucial role in protecting Trillanes and the institution.
The differences of treatment between the two senators are hinged on their personal ties with their colleagues and the trust and satisfaction ratings of President Rodrigo Duterte.
De Lima's actions as Department of Justice chief proved to be her kryptonite, as she investigated and implicated some of the senators in the past. At the same time, Duterte enjoyed wide public support at the time she was accused of drug charges.
Trillanes has built ties with some of his colleagues since becoming a senator in 2007. The weak legal basis of Proclamation 572, the controversies hounding the President, and the public backlash also made it easier for senators to support him.
---
MANILA, Philippines – In just two years, a second opposition senator faces the threat of imprisonment by President Rodrigo Duterte. But unlike the case of detained Senator Leila de Lima, the Senate now spoke out and intervened partly, with senators expressing support for Senator Antonio Trillanes IV.
The glaring differences of treatment between the two senators, both the fiercest and unrelenting critics of Duterte, could all be attributed to 3 factors:
Their relationships with other senators
The disparity in their legal problems
Duterte's ratings and political capital
It was De Lima who first caught the ire of the former Davao City mayor, owing to the former Commission on Human Rights chairperson's investigation into the Davao Death Squad in 2009, which she continued in 2016 as a senator. (READ: De Lima witness: Duterte 'ordered' killings in Davao)
When Duterte went all out against De Lima in 2016, public support was on his side. It was also opportune for Duterte to accuse the former DOJ chief of drug trafficking at a time when his anti-drug campaign was receiving high satisfaction ratings.
Allies in the House of Representatives were also tapped to investigate De Lima's alleged involvement. At some point even pried into and feasted on her personal life.
In the case of Trillanes, he was getting attacks only from the executive and at some point from colleagues, which is par for the course.
After De Lima was jailed, Duterte and his allies shifted attention to other critics like Trillanes. In September 2017, Duterte accused him of having secret offshore accounts, which Trillanes only debunked. In the end, Duterte admitted it was all a lie.
There would be word wars every now and then between Duterte and Trillanes. But only when the senator delved into the territory of Solicitor General Jose Calida did an actual counterattack happen. Trillanes has been pushing for a probe into the "conflict of interest" involving Calida after his family's security firm got hundreds of millions' worth of government contracts. (READ: Duterte says 'bright' Calida researched Trillanes amnesty issues)
Senators – some quietly, others openly – supported Trillanes in his fight against the "unconstitutional" revocation of the amnesty granted him by former president Benigno Aquino III in 2011. Others backed him under the premise of "protecting" the Senate as an institution.
Personal ties
De Lima, a neophyte senator, and Trillanes, who has been a senator since 2007, have varying levels of relationships with their colleagues.
De Lima was also quick to launch a controversial probe into the spate of killings under Duterte. She earlier admitted to Rappler that there were indeed some friends and colleagues who advised her to wait for the perfect timing but she did not heed them.
When the court issued an arrest warrant against De Lima, the Senate, except for a few allies, did not resist. Senators also did not raise too many questions about the validity and veracity of the drug convicts' testimonies which were used against her.
In short, senators were not supportive of De Lima.
As a new senator who focused on fiscalizing and criticizing a popular President, De Lima unknowingly alienated herself from colleagues. Her former friends and clients, then Senate president Aquilino Pimentel III and then senator Alan Peter Cayetano, practically disassociated themselves from her, as the two are staunch allies of Duterte.
It also did not help that De Lima's reputation and actions as DOJ secretary preceded her. As she herself admitted, many of her colleagues have an axe to grind against her.
As DOJ chief, De Lima investigated and implicated politicians who would later on become her colleagues: Panfilo Lacson, Joel Villanueva, Gregorio Honasan II, Nancy Binay, and Vicente Sotto III, among others. At some point, Lacson and Sotto said the testimonies against De Lima were credible.
"There are personal animosities and grudges involved with Senator Leila de Lima and some of the senators because some of them were legal targets so to speak [when she was DOJ secretary]. So yun, with me wala namang ganun," Trillanes said in a Rappler Talk interview. (So there, with me, there's nothing like that.)
Trillanes was elected senator in 2007 while in jail. In 2011, he was able to work with colleagues in the Senate after he was granted amnesty.
Trillanes, who led the 2003 Oakwood Mutiny and the 2007 Manila Pensinula siege, is not one to back down from the powers that be. In fact, in the Senate, he has clashed with leaders, former Senate presidents Juan Ponce Enrile and Aquilino Pimentel III and Senator Richard Gordon, among others.
Despite this, Trillanes claimed he has no personal issues with his colleagues.
"That impression about maraming kaaway (many enemies), that's the public perception but behind the scenes, a lot of the senators both majority and minority are actually my friends. So these things cannot be seen or aren't seen publicly. But these things could factor in," he told Rappler.
Different legal battles
Another factor why the Senate did not support De Lima was the nature of her case. The court already issued an arrest warrant against her. (READ: TIMELINE: De Lima – from drug probe to arrest)
In the case of Trillanes, it was only a presidential proclamation that was the basis for his arrest order. The public backlash on the "unconstitutional" move could have also made it easier for them to defend Trillanes. (READ: [ANALYSIS] Voiding Trillanes' amnesty: Illegal, unwise, immoral)
During the time of De Lima, the Senate, under former Senate president Aquilino Pimentel III, prohibited her arrest inside the building. In hindsight, however, it seemed just a consolation as the chamber had no power to stop the arrest.
Fast forward to September 4, 2018, or the publication of President Duterte's Proclamation 572 ordering the revocation of Trillanes' amnesty and ordering his arrest.
Just a few hours after the news broke, soldiers and policemen trooped to the Senate grounds ready to arrest Trillanes. But Senate President Vicente Sotto III made a stand and prohibited their entry. He also allowed Trillanes to stay in the building until he exhausts legal remedies.
"To preserve the dignity of the Senate, we have to not allow any senator to be arrested within Senate premises. Outside Senate premises that's no longer our concern but within Senate premises that is the decision of the leadership," Sotto earlier told reporters.
READY FOR ARREST. Members of the CIDG arrive at the Senate on September 4 to arrest Senator Antonio Trillanes IV. The Senate, however, prohibits their entry into the building. Photo by Angie de Silva/Rappler
Sotto's decision was overwhelmingly supported by his colleagues in an all-senators caucus held that same afternoon.
Trillanes, in response, could not be more thankful. He said his colleagues might have felt that Duterte "overreached" this time.
"Because I believe they sense the danger as well. they feel Mr Duterte overreached in this particular proclamation and they feel if they allow it then anybody could be next. So I credit the collective wisdom of the Senate for making a stand in not recognizing this proclamation," Trillanes told Rappler.
Senate caucus, support
Three sources present in the caucus recalled how everyone was so aghast at the entry of uniformed men in the Senate grounds – a move they deemed "disrespectful."
"Respect us. [They were on] full battle gear in our premises," said one senator who did not want to be named.
This was later on supported by the statements of Senate President Pro-Tempore Ralph Recto and Senator Francis Escudero. (READ: Senate 'militarization'? Senators hit AFP, PNP presence in compound)
In the same meeting, senators, both from the minority and majority blocs, also expressed dismay and alarm over the impending unconstitutional warrantless arrest of Trillanes, multiple sources said. Many advised him to stay inside the chamber for safety.
FRENZY. Senator Trillanes finds himself surrounded by the media on September 4, as he is caught by surprise by the proclamation ordering the revocation of his amnesty. Photo by Angie de Silva/Rappler
Administration senators also publicly supported Trillanes. His colleagues in the old minority bloc, Recto and Escudero, slammed the action against Trillanes. Escudero is a known ally of Duterte and joined one of the presidential trips abroad.
"The amnesty granted to Sen. Trillanes, after acceptance & the lapse of the 15-day period to appeal has become a vested right and I doubt if it can be voided by mere executive fiat and the corresponding order of arrest issued without going through, or being issued by, the courts," Escudero tweeted.
Recto, who served as National Economic and Development Authority chief under the Arroyo administration, said Trillanes had "done time for the mischief he had created" then.
"We should honor the mandate and the trust millions of our countrymen had reposed on Senator Trillanes. If he had committed offenses after Peninsula, if he had broken any law since, then the right course is to charge him, and not to nullify an amnesty that he applied for, recommended by the military, granted to him by the President, and concurred in by Congress," he said.
Even Poe, who is usually restrained in her comments against Duterte, questioned the move.
"Wala talaga dapat na pag-aresto nang walang warrant at isa pa, bakit mamadaliin? Hindi naman siya banta maski na kanino…Kulang na nga kami sa Senado, mababawasan [pa] – 'wag naman," Poe told reporters on September 12. (There really should be no arrest because there is no warrant. Besides, why are they in a rush? He is not a threat to anyone… We are already less than 24 senators, and now we might lose one more member.)
In a prayer she led before the start of the session on September 5, a day after the proclamation was made official, she wished for "louder voices." Trillanes, who ran for vice president in 2016, supported the presidential bid of Poe.
"Bilang isang institusyon, patibayin mo po ang aming paninindigan at gabayan at protektahan ang aming mga kasamahan lalong-lalo na ang mga dumadaan ngayon ng pagsubok. Palakasin mo po ang tinig ng mga pinatatahimik," Poe said without mentioning names or specific events. (As an institution, give us the strength to stand by our principles and guide and protect our colleagues, especially those who are facing challenges. Make the voices of those people who are being silenced become stronger.)
But for political analyst Gene Lacza Pilapil, the actions of the Senate and the senators are still not enough. Instead of the chamber's "minimal protection," Pilapil said the Senate should have filed a resolution denouncing Proclamation 572 as a clear indication of their defending the institution.
The Senate minority bloc filed a resolution seeking a probe into the "fraudulent" and "erroneous" proclamation but was just referred to the rules committee, pending decision on final committee referral.
"I think the Senate should have come up with a collective voice that this goes beyond this administration and opposition," Pilapil told Rappler in a phone interview.
"The Senate does not see it affecting the Senate as an institution…They don't see this as an attack on the institution, just on an individual senator. But you could not separate Trillanes, the senator, from the institution. They should have denounced the arbitrary revocation, " he added.
Duterte's ratings, political capital
Timing, clearly, is among the key factors that differentiated the cases of De Lima and Trillanes.
A few months after assuming the presidency in 2016, Social Weather Stations reported a +64 net satisfaction rating for Duterte. This stayed almost the same, +63, in December 2016 and March 2017, just a few months after De Lima's arrest.
This went up by 3 points, +66, in June 2017. All this time, Duterte continued his attacks against De Lima and the opposition with his high ratings unchanged.
Instead, what put a dent on his ratings was the death of minors in his bloody drug war. In September 2017, he experienced an 18-point drop in net satisfaction – from +66 to +48.
Such was public anger over the incident that Duterte made a rare statementagainst his anti-drugs campaign. He promised that policemen responsible would "rot" in jail and declare he doesn't condone the killing of youths.
Duterte was able to bounce back after that. But in 2018, controversy after controversy hounded him and his administration, mostly of his own doing.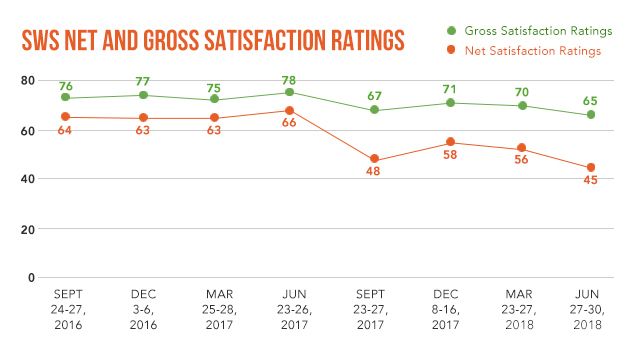 In June 2018, a few months before the amnesty issue, Duterte called God "stupid"and disparaged tenets of the Catholic faith. In the same month, SWS recorded an all-time low in public satisfaction – a net rating of +45 from the previous quarter's +56.
Public trust in Duterte also fell to its lowest the same month, according to the same SWS survey that was released in September. The poll showed that the net trust ratings of Duterte dipped by 8 points to +57 from +65 in March, though still classified as "very good."
It's a different story, however, with Pulse Asia. Its June 2018 survey did not take into consideration the effect of the controversial "God is stupid" remark, unlike the SWS survey.
Trillanes believes the decline in the President's ratings contributed to the support he is getting from his colleagues and the public. From being viewed as a noisy enemy of Duterte, Trillanes has slowly appealed to some as the lone voice of dissent against the President.
"The political environment [changed] because last year Duterte was extremely popular but I don't think so now," he told Rappler.
Pilapil shared the same view and said Duterte committed a mistake in issuing Proclamation 572 at a time when he is losing political capital.
Pilapil said they could have waited for just a few more months to attack Trillanes. After all, the latter would be out of the chamber by June 2019 and could no longer enjoy legislative protection.
"This was unexpected…It's bad timing for Duterte because he has not much political capital, popularity. You don't move now without political capital," PIlapil said.
It is now up to the courts to decide on whether or not Trillanes should be arrested following the revocation order. If they issue a warrant, then Duterte would again succeed in sending a second critic to jail.
Trillanes' incarceration would likely put a spotlight on the questionable, and some say unconstitutional, actions of the President and his men.
But if Trillanes goes free, the public can expect him to keep his word to run afterthose behind the revocation of his amnesty. – Rappler.com