By Claire Bernadette Mondares, September 29, 2023; The Manila Times
https://www.manilatimes.net/2023/09/29/news/national/ph-moves-up-in-global-innovation-index/1912232
THE Philippines moved up three spots, to 56th, in the 2023 Global Innovation Index (GII) among 132 economies, the World Intellectual Property Organization (WIPO) reported Wednesday.
The country's GII spot this year improved on its ranking at 59th in 2022, which is a nine-place drop from its placement in 2021.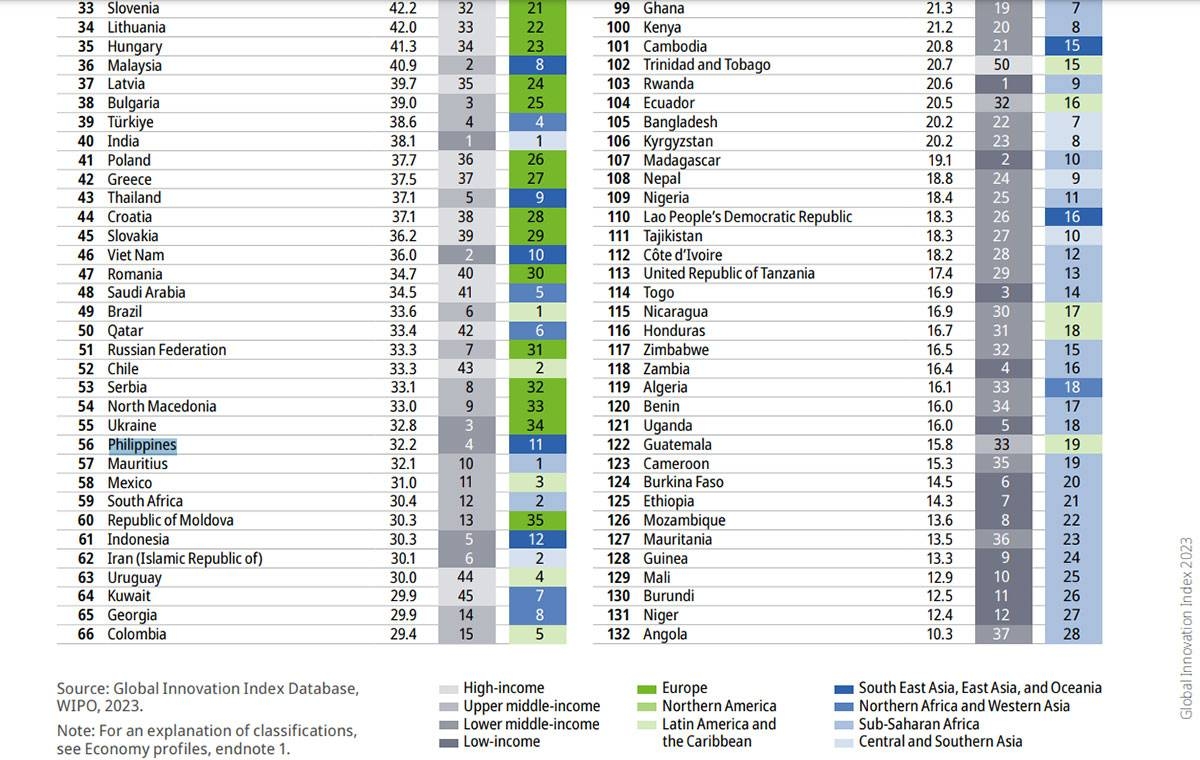 In the last four years, the Philippines has consistently performed better in innovation outputs than in innovation inputs, the WIPO said.
This year, it improved its ranking to 69th place in innovation inputs, compared to 76th in 2022, 72nd in 2021 and 70th in 2020.
For innovation outputs, the Philippines was 52nd in 2023, 51st in 2022, 40th in 2021 and 41st in 2020.
The innovation input sub-index includes five pillars that capture elements of the national economy that enable innovative activities.
The innovation output sub-index is the result of innovative activities within the economy.
Although the output sub-index includes only two pillars, it has the same weight in calculating the overall GII scores as the input sub-index.
The WIPO said the strongest areas for the Philippines are those that are above the GII score, and the weakest are those that rank below.
Across the seven areas of GII, the Philippines ranks highest in Business sophistication, placing 38th; Knowledge and technology outputs (46th); and Market sophistication (55th).
The weakest areas are Human capital and research (88th), Infrastructure (86th), and Institutions (79th).
The Department of Science and Technology (DoST) welcomed the new global ranking in innovation. "The DoST shall remain focused on driving the country's science, technology, and innovation-driven economic development by continuously investing in programs and projects that can advance the country's productivity and competitiveness in the global knowledge economy. Our good performance in innovation outputs compared to innovation inputs is reflective of our country's ability to translate our innovation investments. We hope to support our local companies to drive innovation and wealth, with banner programs like the DoST's Science for Change Program (S4CP), Small Enterprise Technology Upgrading Program (DoST-Setup) and the Community Empowerment through Science and Technology (CEST) program," DoST Secretary Renato Solidum Jr. said.